How to make a corsage for prom
How to make a corsage for prom
It's prom time - and that can only mean one thing - corsages! These cute floral adornments, tied around the wrist, are a prom must-have. The good news is you don't need to be a professional to make something beautiful.
In fact, one of our Flowercard fans sent us these two great designs. So, if you're a parent of a grad-to-be, or about to attend Prom yourself, why not have a go at one of these easy-peasy methods to create a quick corsage for prom?
Method 1: Ribbon tie corsage
You will need:
Florists' tape or thin twine
Ribbon
A focal flower (such as a rose)
Two supporting flowers - light fillers, such as waxflower or gypsophila work perfectly.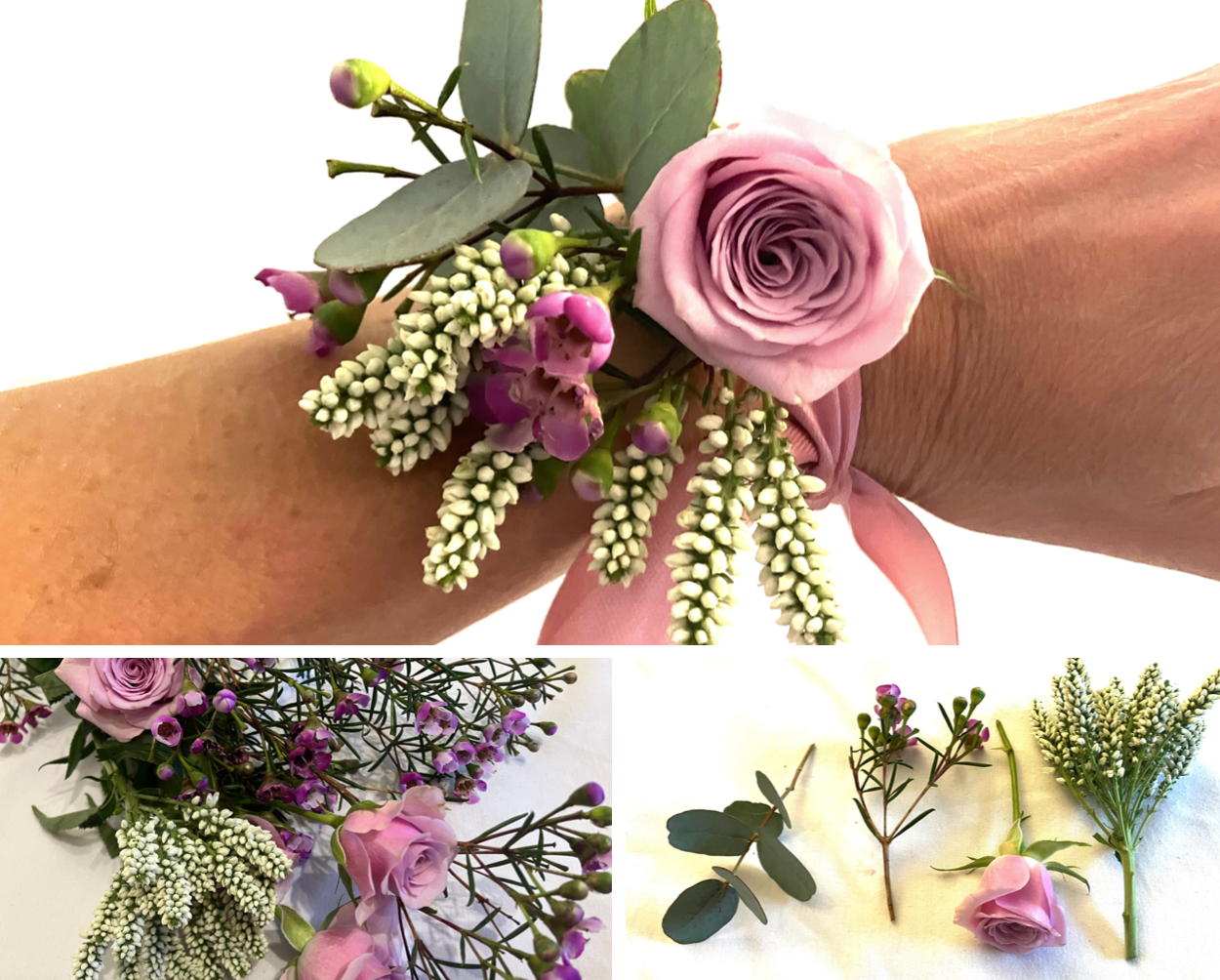 Lay out your flowers and foliage as shown above - we've chosen Eucalyptus, waxflower, spray rose and veronica.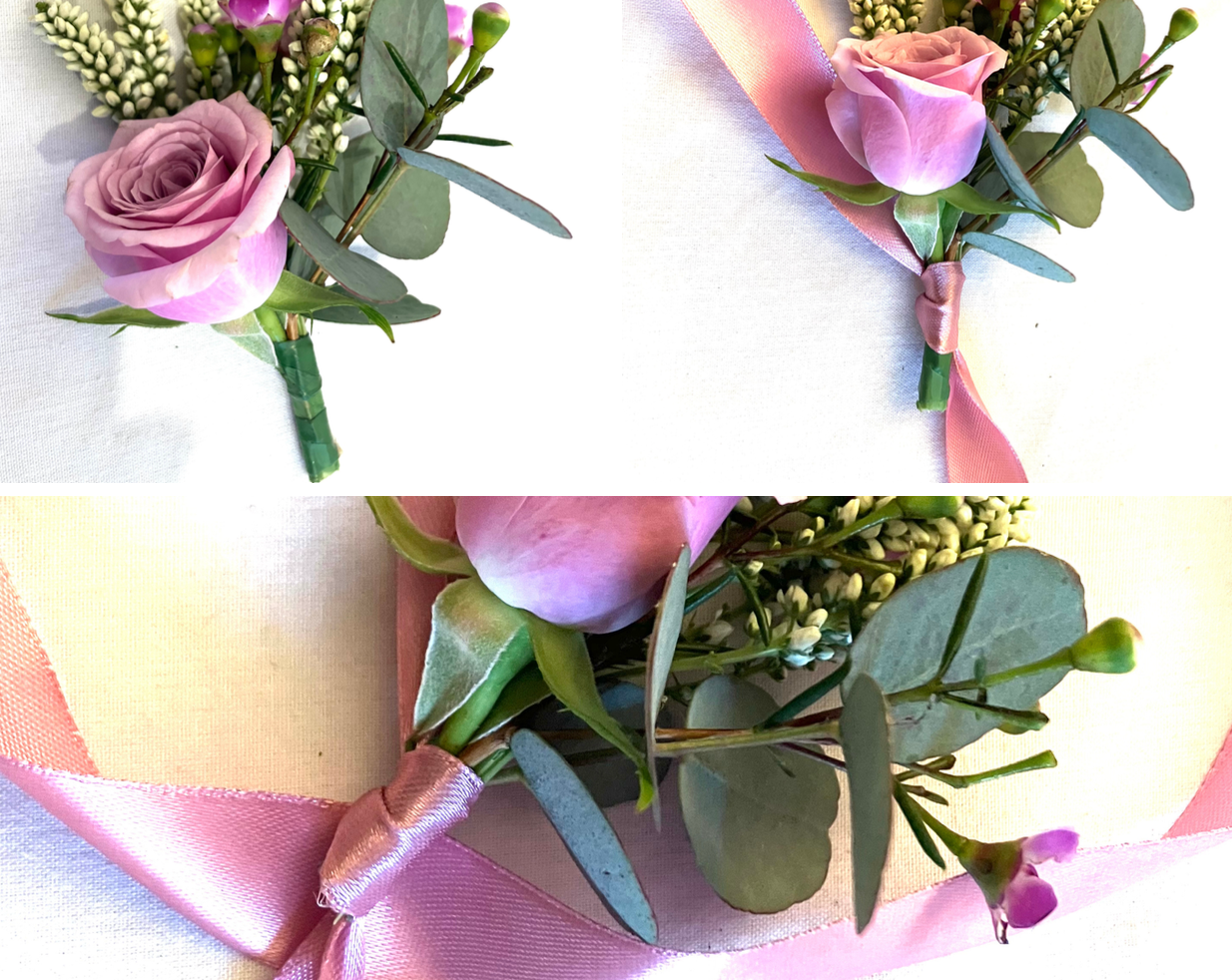 Place your flowers as shown in the picture (above, left) with the focal flower at the front. Bunch into a mini bouquet and tape or wrap the stems with twine.
Tie your ribbon to the base of the stems (above, right).
Finally, cut the ribbon off where the stems end, and secure with a dab of glue at the base if needed. To secure, place the stem on to the top of the wrist where you want the corsage to sit. Wrap the ribbon over and around the base of the bouquet so that it doesn't move when you lift your hand. Finally, tie the ribbon in a pretty bow around your wrist.
Method 2: Bracelet corsage
This one requires a bracelet onto which you glue the flowers. This is a super easy option and you don't need a corsage specific bracelet - you could even work this with a wide hairband.
You will need:
Close-fitting bracelet or wristband/hairband (wide enough to stick a supporting base, see next step)
Small piece of cardboard or sturdy ribbon - to attach to the band.
Wide, flat leaves (such as eucalyptus but ivy would work well too)
Focal flower such as a spray rose
Light filler such as veronica or waxflower
Glue gun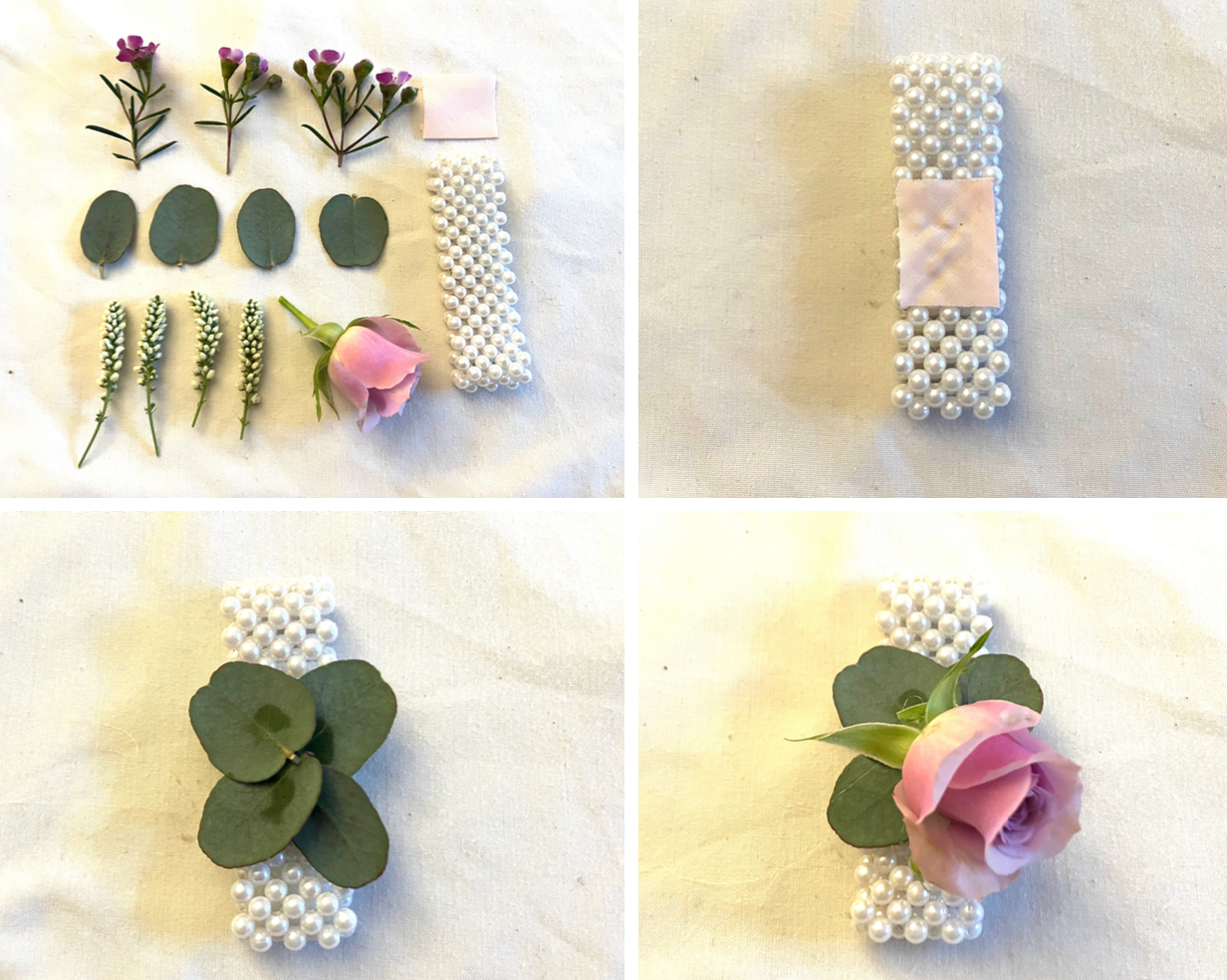 Place your flowers as shown. You'll need to create a nice flat base with leaves.
Stick a small piece of cardboard or ribbon to the bracelet as shown.
Using the glue gun, stick the leaves down to create a base. It's OK for these to overlap slightly as long as they cover the card/ribbon underneath.
Cut the stem of your focal flower close to the head (but not so close that the petals break off). Stick the stem securely to the leaves.
Continue to add your focal flowers - we've chosen three small spray roses, but a single larger bloom, such as a larger rose, would be great. Anemones and spray carnations would all work well, but be careful not to spoil the petals of the more delicate flowers.
Build up your design by glueing in filler flowers in and around the focal flowers.
Let the glue dry fully and voila - your corsage is ready to wear!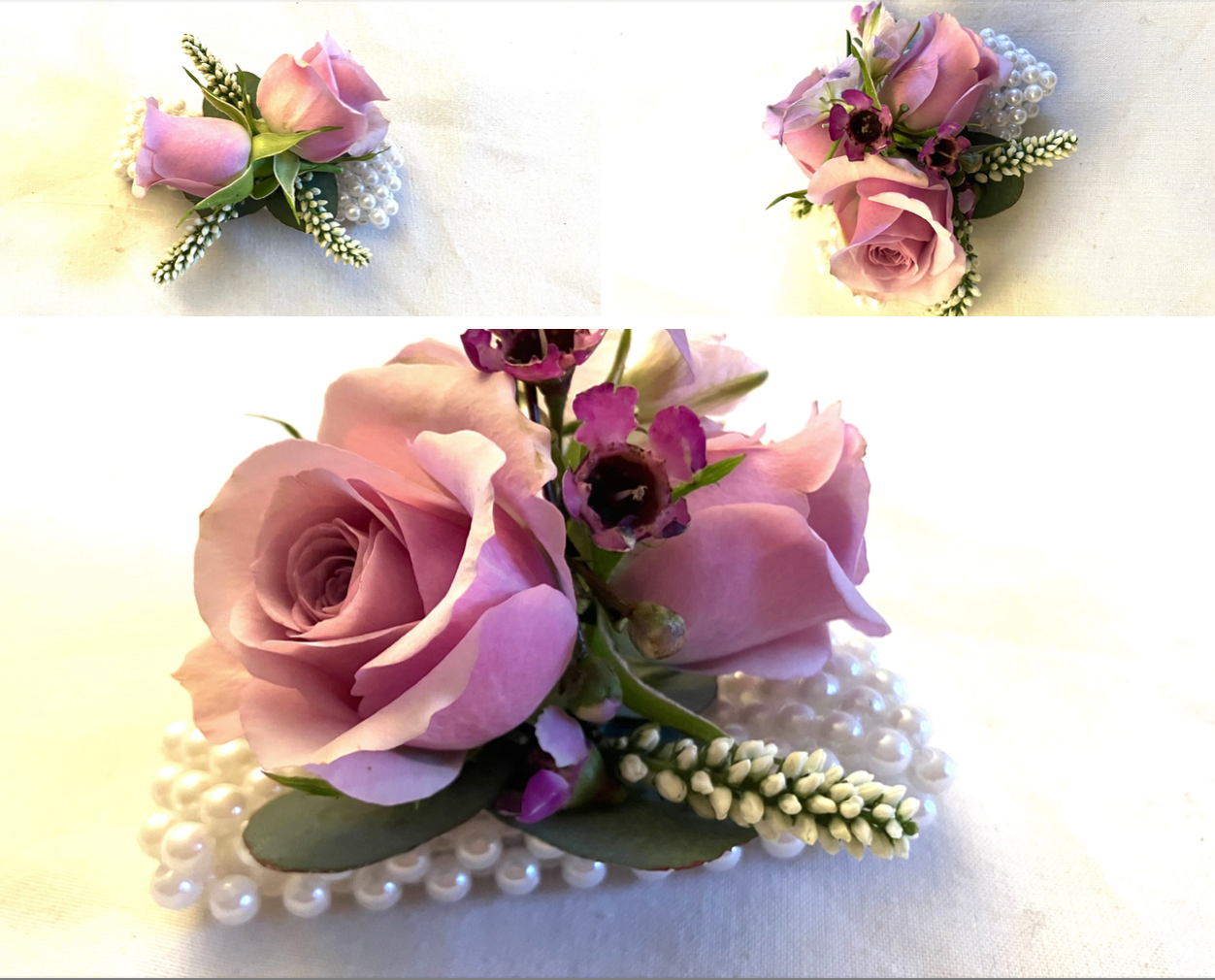 Liked this? Make sure to follow Flowercard on Facebook and Instagram for more floral fun.
Did you know? We have Graduation Flowercards!
Flowercard has a whole range of beautiful occasion flowers, including Flowercards specifically for graduates. What better way to show someone clever how proud you are?
Graduation Flowercards
Nothing says 'Well done!' quite like a fresh floral display accompanied with a lovingly personalised greeting card. Cheery Cluster is a handmade arrangement larger than our standard sizes, showcasing delicate blooms of white lisianthus and brunia berry jewel clusters to reward them for their achievements. 'Congratulations' will be printed on the card as well as your personal message.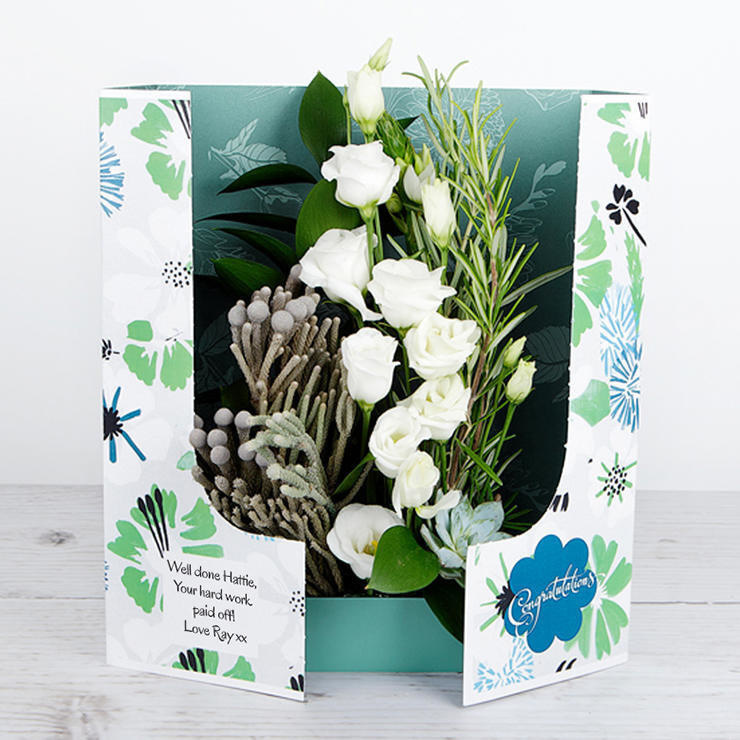 Celebrate their graduation with this gorgeous Gatefold card. Bursting with roses, carnations and pops of hypericum, Congradulations is the loveliest way to say well done! Congradulations will be printed on the card as well as your personal message.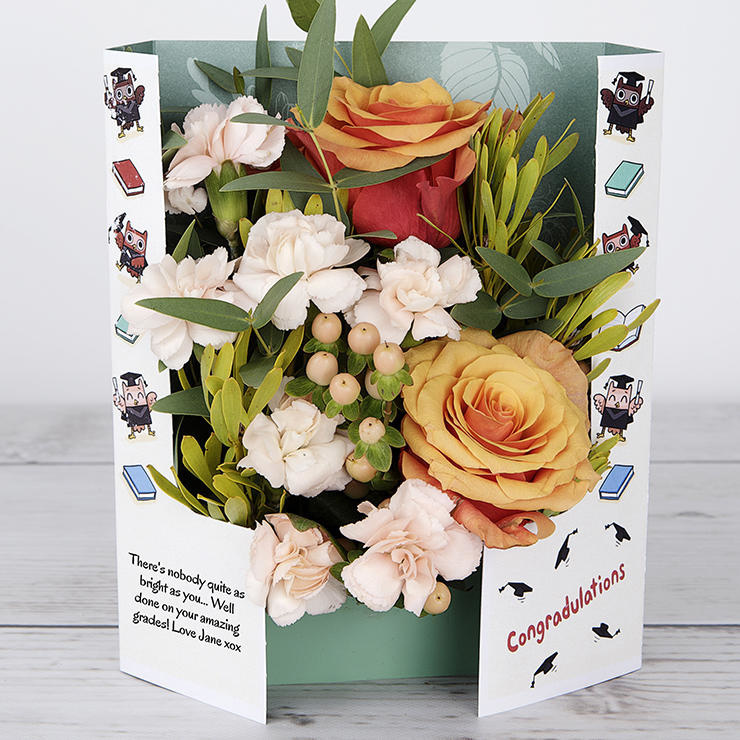 Want to see more? Browse our full range of congratulations flowers.