Four fabulous coronation flower ideas
Flowers have long been a traditional way to celebrate historical events, so what better way to mark the King's coronation with handpicked coronation letterbox flowers in red, white and blue?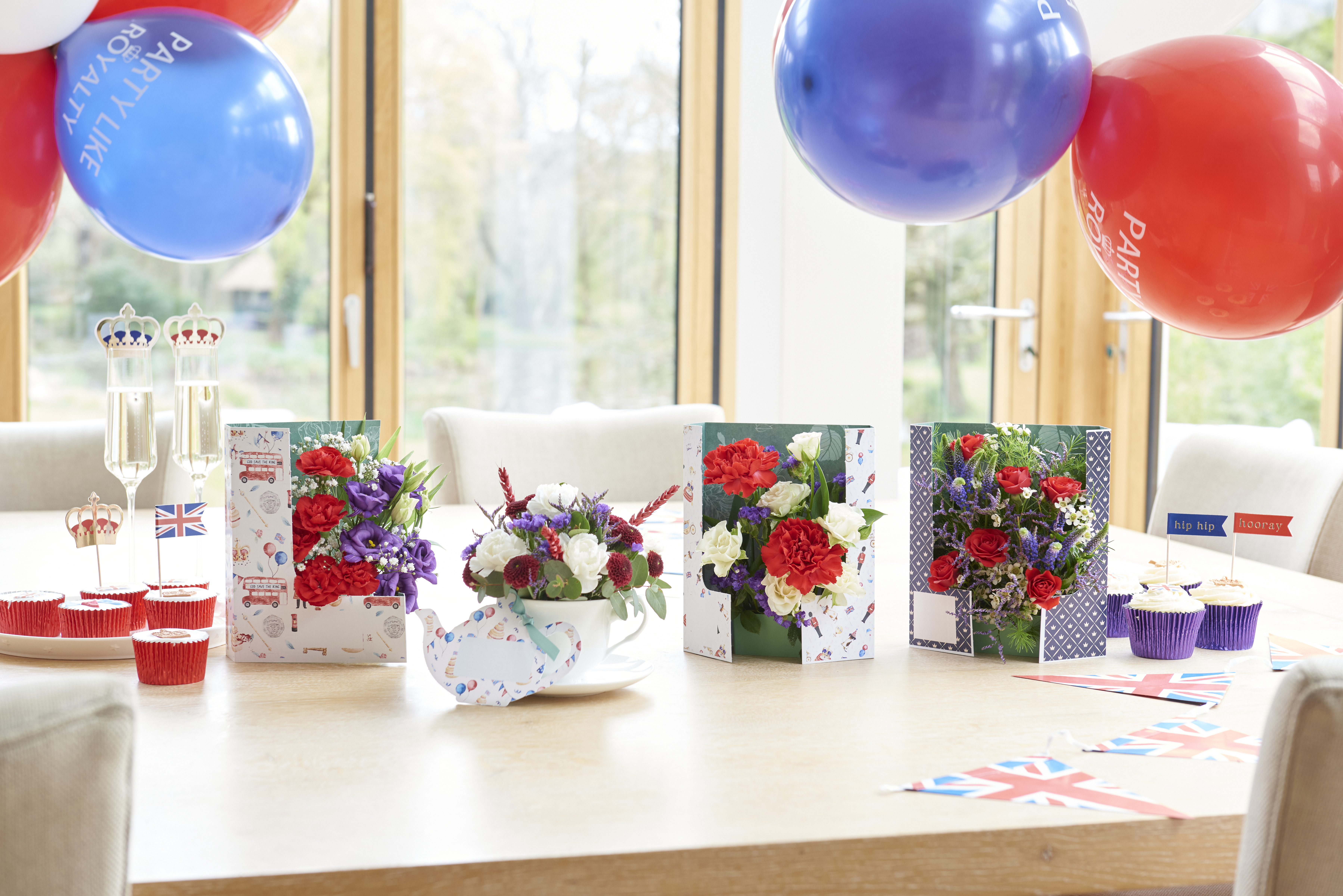 Why do we love red, white and blue?
Red and blue are two parts of a triadic colour harmony - that is, they sit 3 colours away from one another on the colour wheel. This provides a vibrant colour scheme, which when used with white, adds in a little purity to stop either colour overwhelming the other.
What does red, white and blue symbolise in floristry?
What is it about that combination of red, white and blue that makes us feel so…well, British? Of course, it's everything we associate with pomp, circumstance and ceremony: from the red of the Beefeater's coat, the white of the ermine and the 'royal' blue much loved by Catherine, Princess of Wales.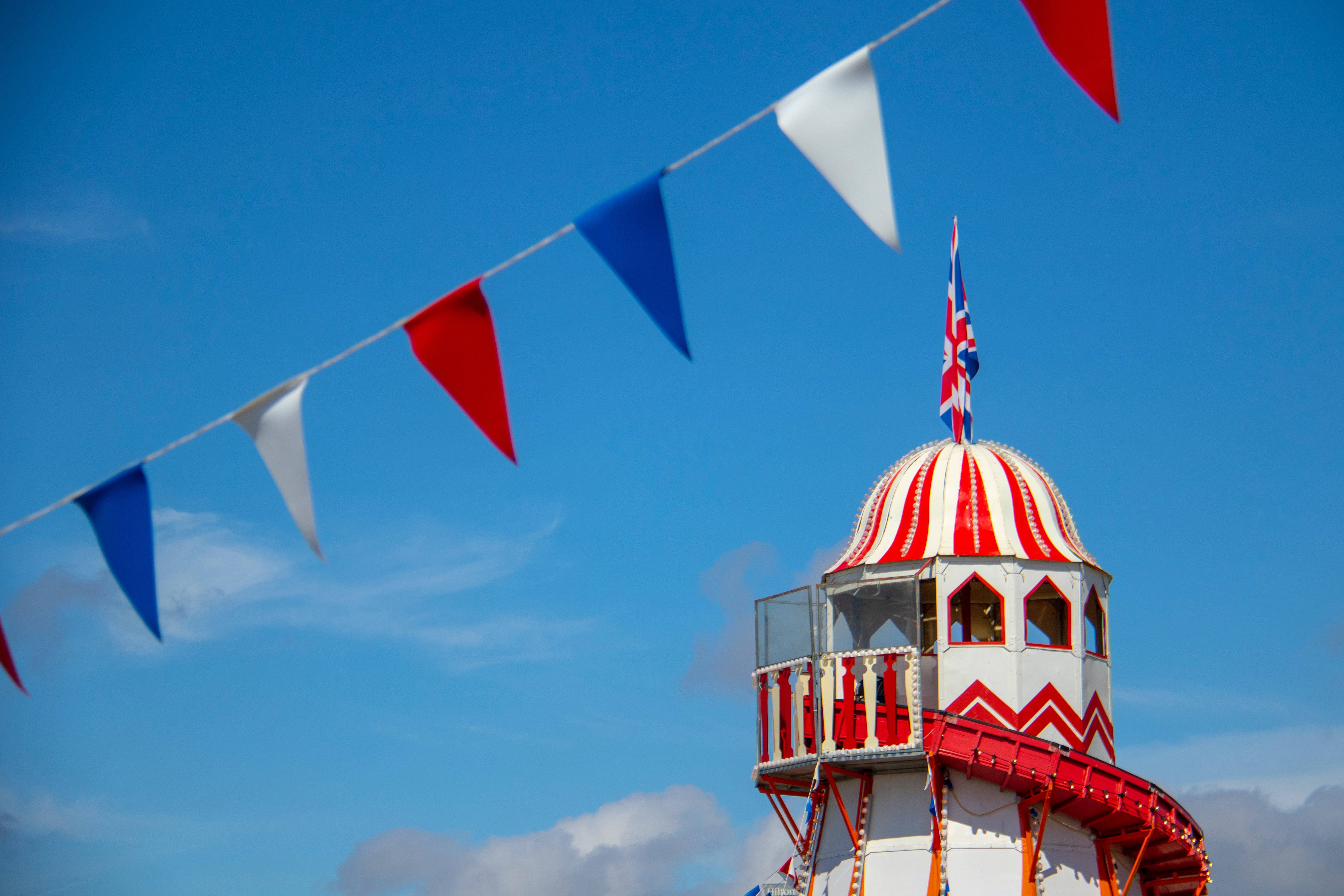 Introducing our coronation arrangements
This spring, we've created a selection of gorgeous red, white and blue coronation-themed Flowercards in honour of the occasion.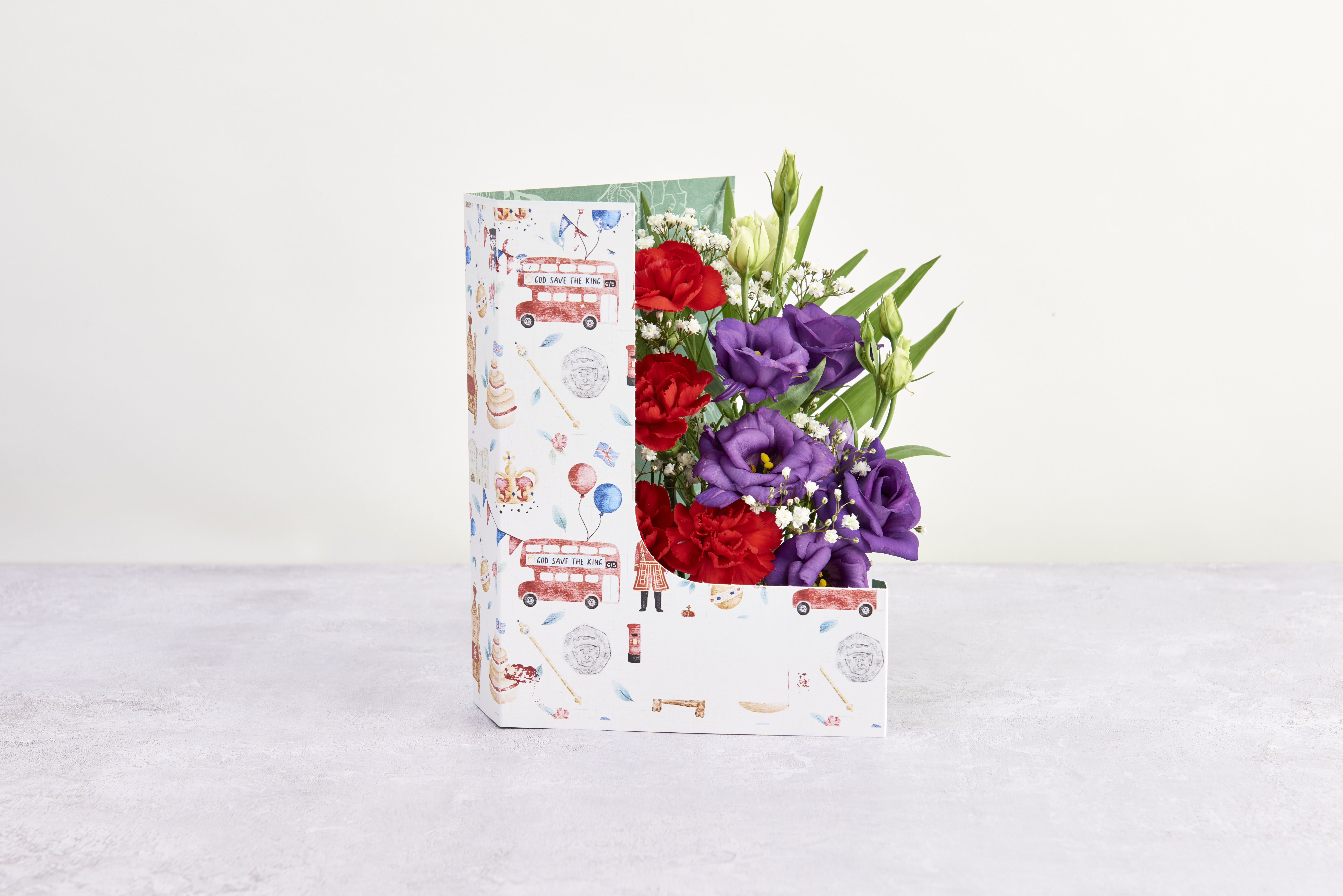 1. Celebrate Best of British with classic carnations
Here, in Best of British Flowercard red carnations are our focal flower, used with white lisianthus buds and sprays of light gypsophila (baby's breath) to create texture and frothiness. Our blue - this time created with the secondary colour purple - comes in the form of purple lisianthus which gives a regal air to this super bold and pretty flowercard arrangement. We love the card which features iconic London emblems in a whimsical watercolour style to symbolise everything we associate with King and country.
Of course, many flowers are cultivated to grow in all shades of the rainbow, but when it comes to delivering on the red, white and blue front, here's just some of our floristry go-tos: (note that these may not all be in season during the King's coronation!)
Red flowers we love:
Achillea
Chrysanthemum santini
Carnations
Alstroemeria
Anemone
Anthurium
Roses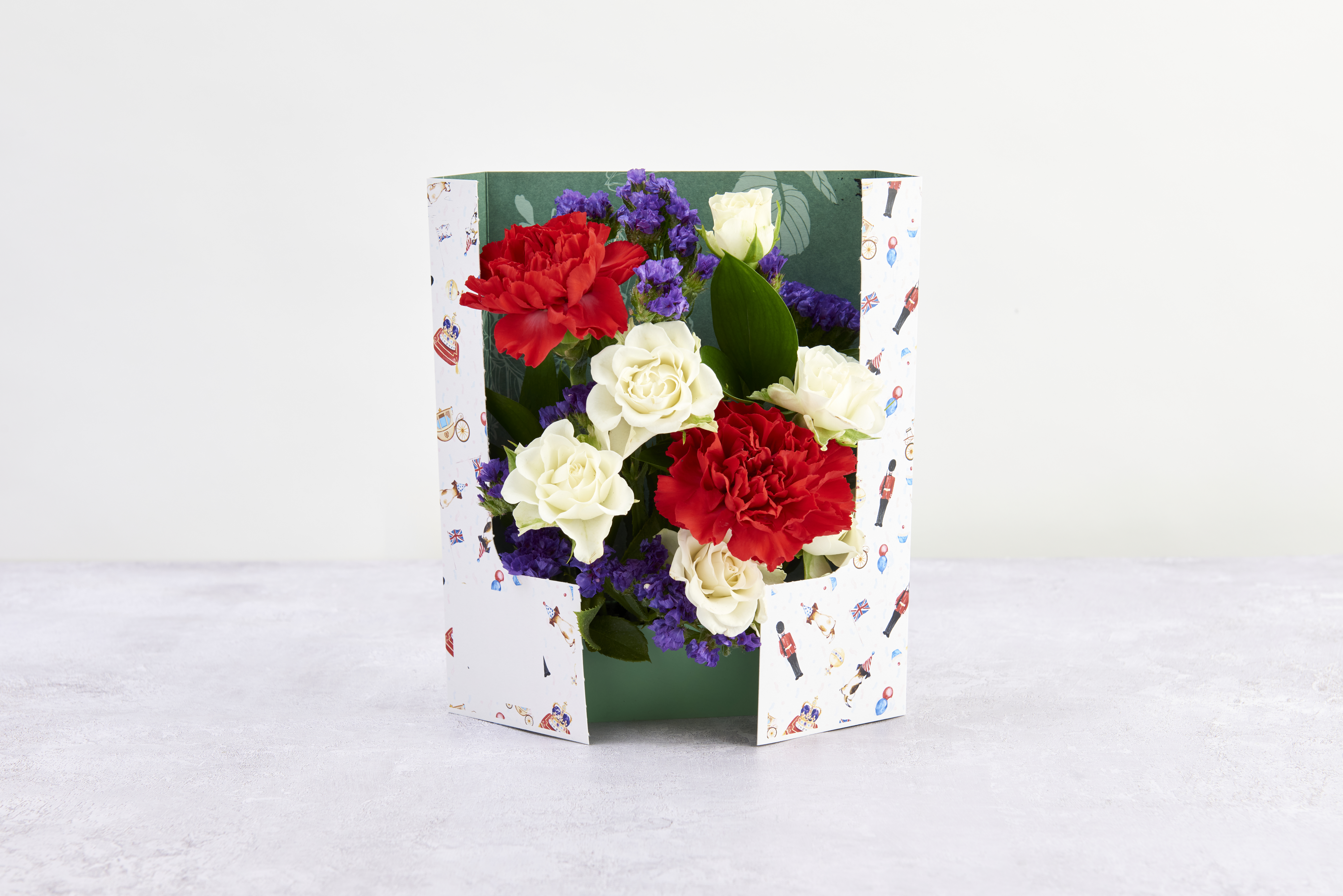 2. Remember days gone by with royal blue statice
Next, we have another take on the traditional red white and blue. In Happy Days Flowercard red carnations are once again a stunning focal point, complemented by white mini spray roses to let the beauty of the carnations do all the talking. The blue statice is an unusual addition which gives this arrangement amazing texture and a touch of the wildflower meadow.
Statice, in indigo-blue, is actually what florists term a 'recessive' colour in that it lies on the cooler side of the colour wheel and serves to add depth rather than brightness. This arrangement features a bespoke coronation design with corgis, Royal carriages, flags and other lovely emblems that are perfect for adding a touch of nostalgia for many of us who will have fond memories of royal weddings of the past.
3. Pick waxflower for a perfect white finish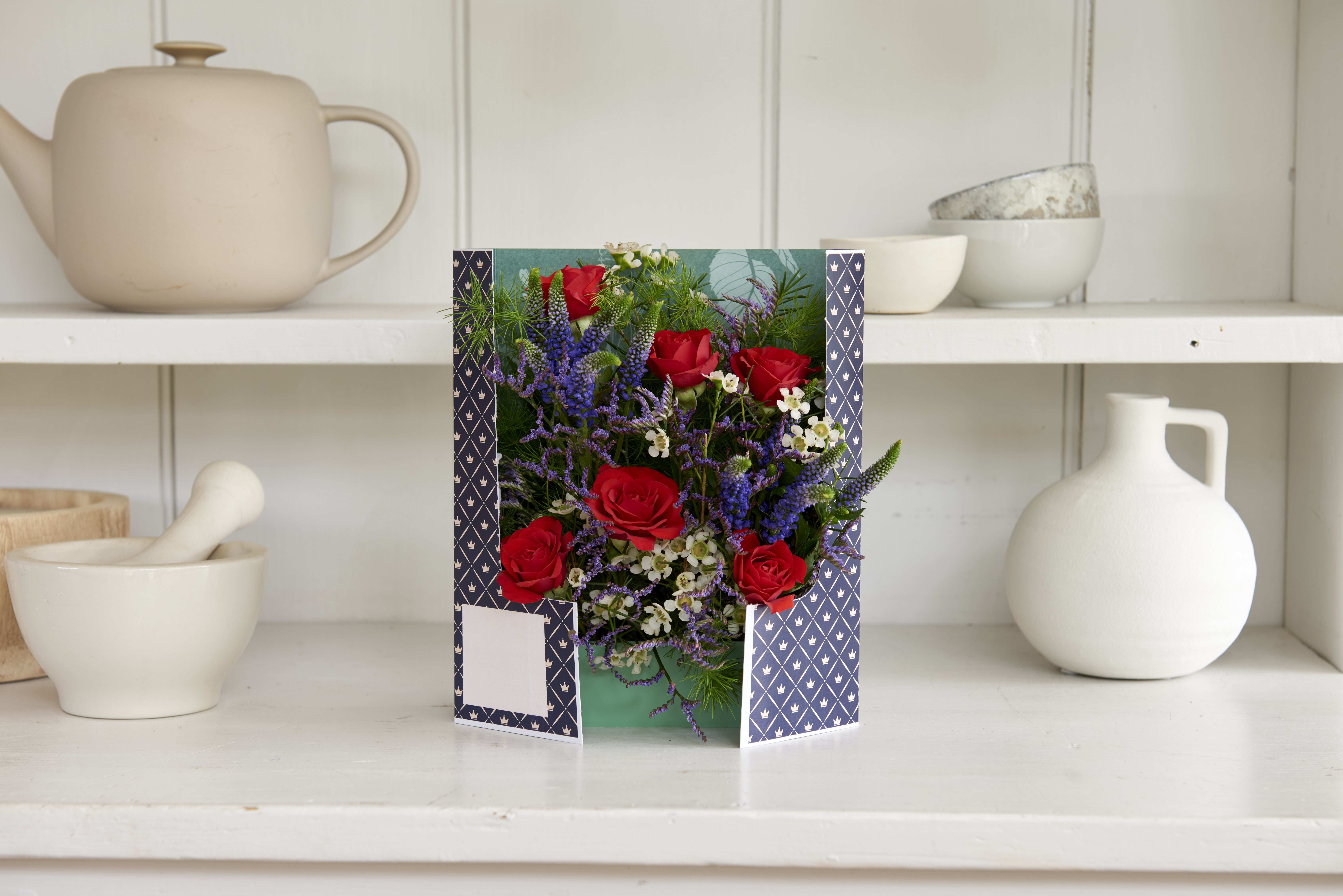 Who could resist this smart card with its monogrammed design in navy blue? Reminiscent of royal households, Your Majesty Flowercard features a really lovely selection of red, white and blue flowers arranged in a delicate fashion to showcase its beauty. Red spray roses are our focal flower, supported by not one but two 'blues' - the stunning spears of the veronica, providing texture, and the lilac, feathery limonium, which fills the space beautifully to create an amazing three dimensional effect.
And how could we forget the 'white?' - this time provided by the delicate waxflower. Much beloved of florists, gardeners and brides to be: with its sweet bunches of delicate flowers, it has a rustic look which fits perfectly with the meadow feel of this flowercard. Foliage, although green, is usually treated as a 'neutral' in floral design and works to perfect effect here, with treefern ming providing a lovely feathered effect - like you're peeking into a wildflower garden.
White flowers we love:
Gypsophila
Spray roses
Tulips
Aster
Astilbe
Astrantia 'Million Stars'
Calla lily
Carnation
4. Enjoy a bouquet in a royal-tea cup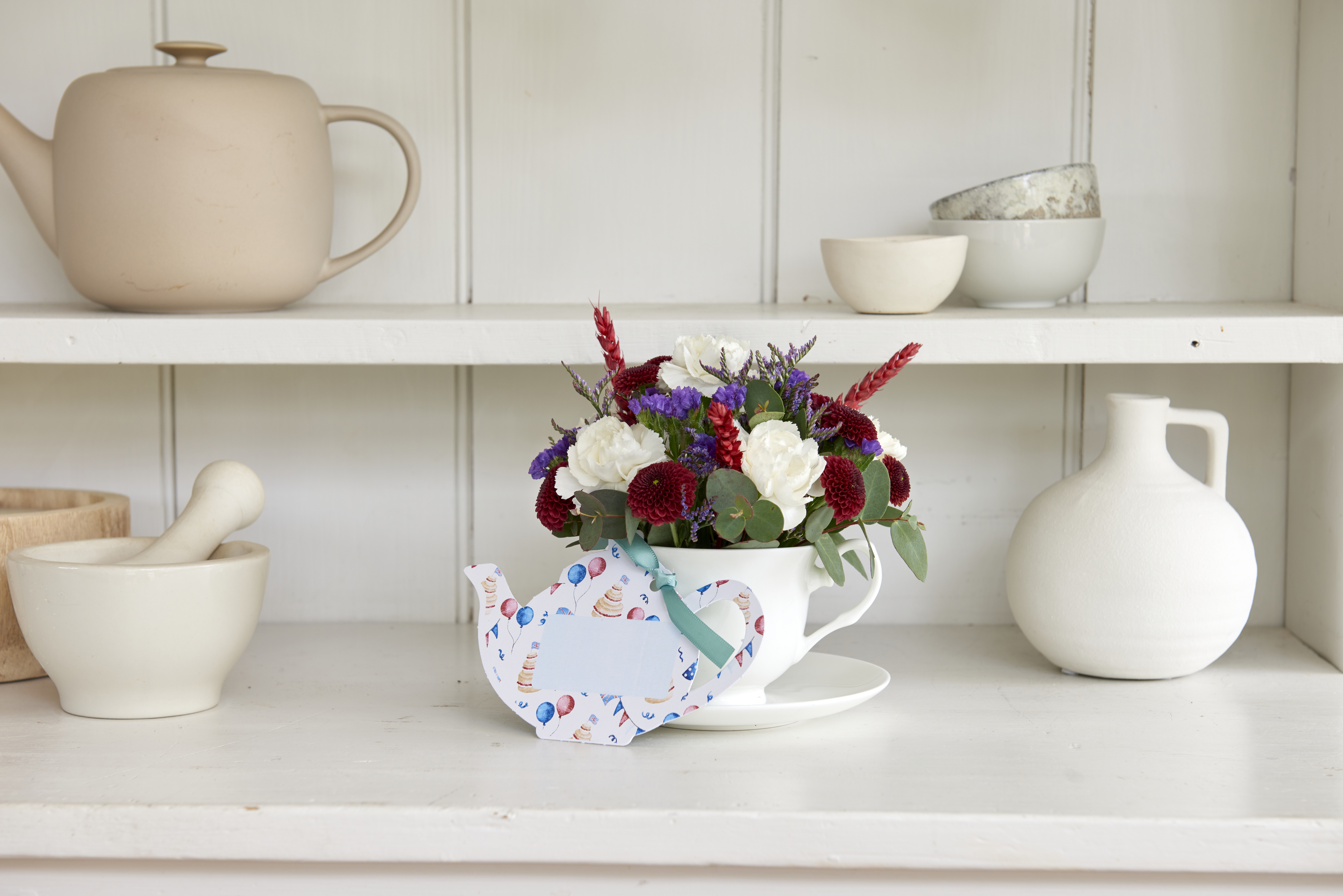 Royal-tea, anyone? In keeping with the red, white and blue theme, this coronation-themed teacup design, Coronation Posy Teacup plays with tints, tones and shades of the colour harmony, featuring deep red santini pompoms, as well as painted red wheat spears to add interest, texture and a rustic vibe. The pure white ruffles of the spray carnations are the perfect foil to the indigo statice and lilac limonium feathers, which are all arranged perfectly to create this coronation in a teacup.
Blue flowers we love:
Bouvardia
Eryngium (thistle)
Eucalyptus Baby Blue (not strictly blue but it's so beautiful you'll forgive us)
Gentiana
Hydrangea
Hyacinth
Iris
Delphinium
Loved these arrangements? Available now at our website.
If you loved these Flowercards, then head over to our special coronation collection to order your gift in time for this historical event.
Photos courtesy of Annie Spratt on Unsplash