When a pet dies: best flowers for pet bereavement
It's completely normal to feel in pieces over the death of a pet. Many of us have experienced the tide of heartbreaking emotions that sweep through us when we learn that our beloved friend isn't coming back.
But what about when it happens to someone else? When we get that call or text to say "we lost [Pet] today" you might be at an utter loss to know what to do, or what to say.
We are here to help. Here are five positive ways you can support someone when they lose their best friend.
Our Best Friend Dog Sympathy Flowercard features simple white lisianthus, feathery fern fronds and classic wheat spears for a pretty mini bouquet that's perfect for comforting a dog lover.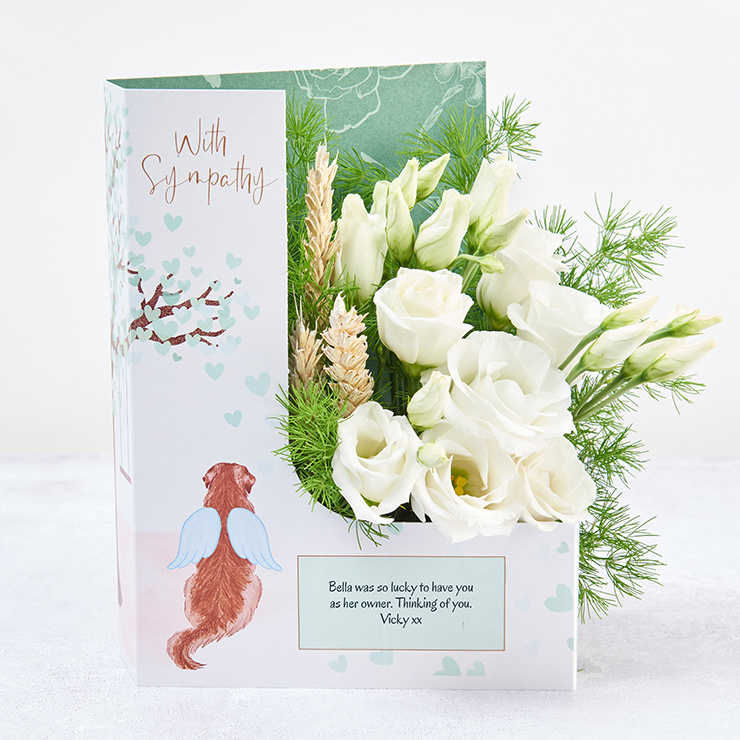 Do recognise that it can take time
Your friend or family member might initially seem accepting of the fact that their pet has passed away, then suffer in waves of grief weeks afterwards. Make sure to ask how they are, not just on the day of the bad news, but afterwards too. You don't have to be overbearing - just a 'how are you doing?' now and then will be much appreciated, and will encourage them to talk things through.
Don't minimise their loss
Unconditional love, companionship, the whole being responsible for another life - is it any wonder that we love our pets, and experience intense grief when they are gone? The death of a pet should not be underestimated, and the science backs it up: many surveys compare the death of a dog for example to be on a par with losing a friend or family member.
It is never okay to say "Oh, it's just a dog' or 'she was just a cat." Whatever your own feelings, now is not the time to share them. For some, that pet is the closest to family that they have, and this is particularly true for older adults or those that live alone.
Do share your memories
Remember that time you looked after your friend's cat and she refused to sleep anywhere but the laundry basket? Or looked after your Dad's cheeky terrier and it escaped, leaving you run ragged around the neighbourhood until you found them? Those tender, funny moments are yours to share, and can paint an even more vivid picture of the pet that you loved. Dig out old photos, trawl through your memories and share the happy times.
Show that you care for the loss of a beloved cat with our Sleep Tight Cat Sympathy Flowercard. The card features a lovely cat with angel wings, encasing a peaceful purple-themed arrangement that features lisianthus, limonium and lavender for a calming effect.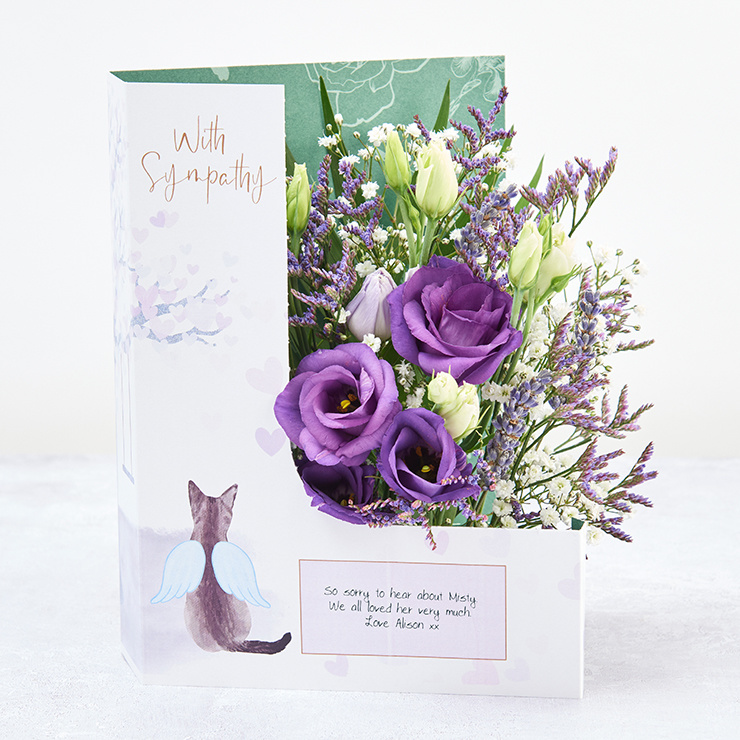 Do consider sending a gift
Sending a card and flowers is a fitting gesture and a simple way to show that you care. Our own Flowercards feature simple illustrated designs that are respectful and beautiful without being over the top. The gesture shows that you are there for the bereaved, that you respect their grief and want to bring a smile to their face - even if you can't be there to give them a big hug.
Don't rush your message, but say something meaningful
The bereaved may well want to hide away from the world for a little while, but that doesn't mean you can't get your message through. A Flowercard lets you type out your own message which is then specially printed onto the card, creating a truly personal tribute that shows far more care than a hastily dashed text or WhatsApp.
If you're stuck for things to write, try these ideas:
"Losing your best friend is never easy, but [Pet's name] was so lucky to have you."

"We know how much [Pet's name] meant to you and your family. Please call me anytime you would like to talk."

"Don't forget the good times - [Pet's name] was so lucky to share a wonderful life with you."
How to order your pet bereavement flowers
It's really easy to show your condolences for the loss of a pet. Simply place your order online by 4pm, add your personalised message and your card will be with the recipient the very next day.