Flower of the month: rose
It's official! The Flowercard community loves roses. We've reviewed the rose products that you're searching for the most, and put them together in one place, along with their floral meanings.
So, if you've ever wanted to choose a yellow, red, orange, white, pink, or even a lilac rose for someone - then you've come to the right place.
Yellow roses - friendship and hope
You've probably guessed this one - yellow roses are recognised everywhere as representing friendship, so are the perfect way to tell someone you care for them (without the awkward romance factor!)
Slightly coral in tone, but happy, energetic and gorgeous nonetheless, these stunning yellow-toned roses in Birthday Blossom say: "we're forever friends'.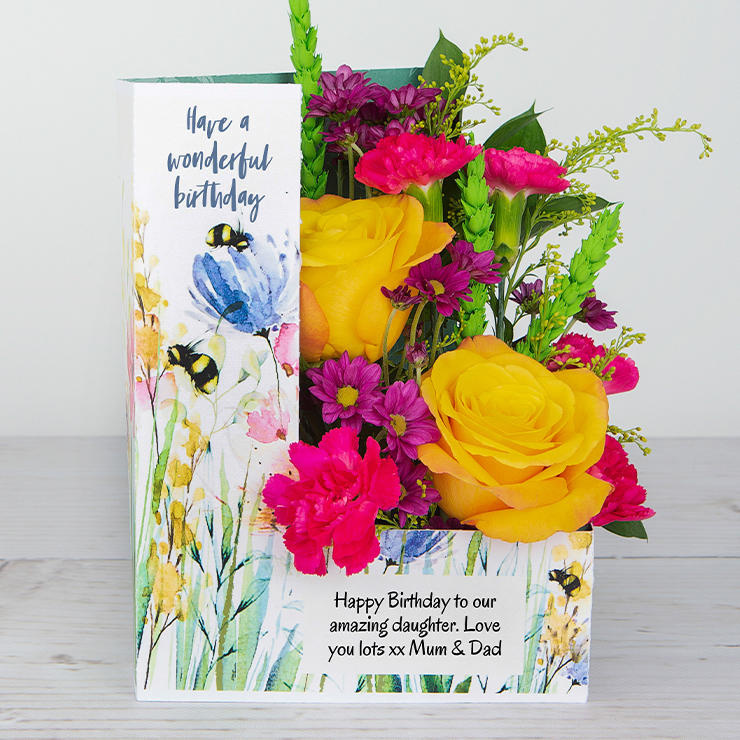 Red roses - love and passion
Understood worldwide to represent eternal love and passion in equal parts, red roses are the foolproof way to get your message across. Birthday Love - with its cerise Dutch roses, delicate white santini (mini pom poms), and blush gypsophila, is a gorgeous way to show a partner that you love them.
Other red roses for family and friends include:
100 Birthday Hugs - celebrate a milestone 100th birthday with stunning red roses and pops of white.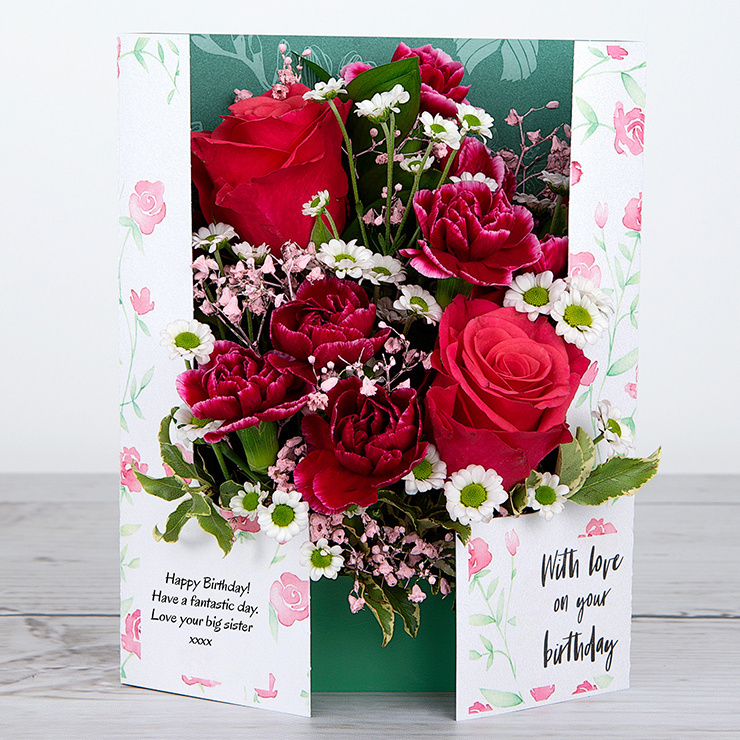 Orange roses - charm and positivity
Nothing says 'you light up my world' like this Peach Satin Flowercard. Bursting with good vibes, the oversized Downtown roses are shown off to great effect against peach carnations and cute hypericum berries. Why not accessorise with a cute daisy plant stake to make the gift a long lasting sign that you care?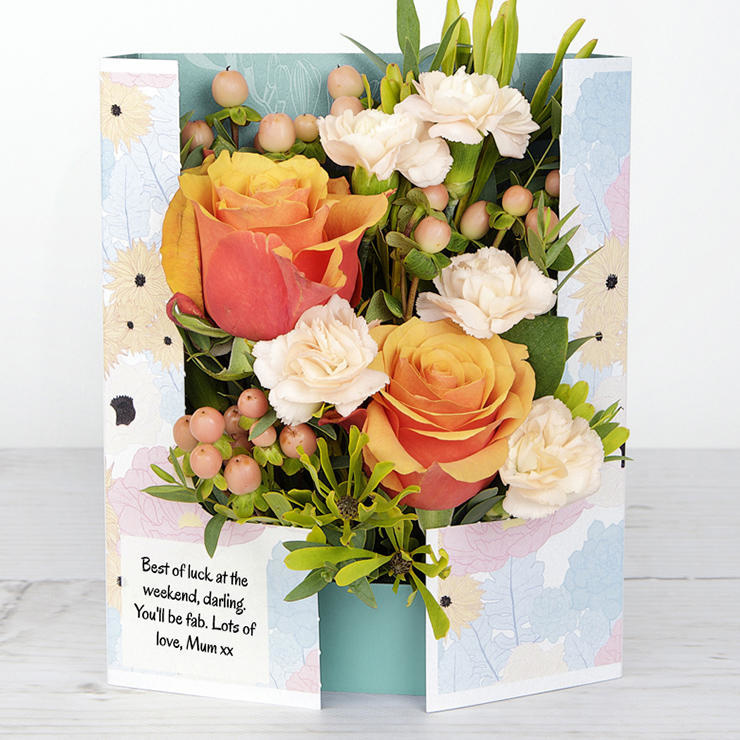 White and lilac roses - innocence and life
Pure white roses are associated with all things youthful and innocent, while lilac roses are associated with eternity, positivity and a long life. Put these meanings together and you have our She's Here! Flowercard. Combining classic cream and breathtaking lilac roses, this truly meaningful flowercard also features ornithogalum (commonly known as the garden 'Star of Bethlehem') adding texture and interest.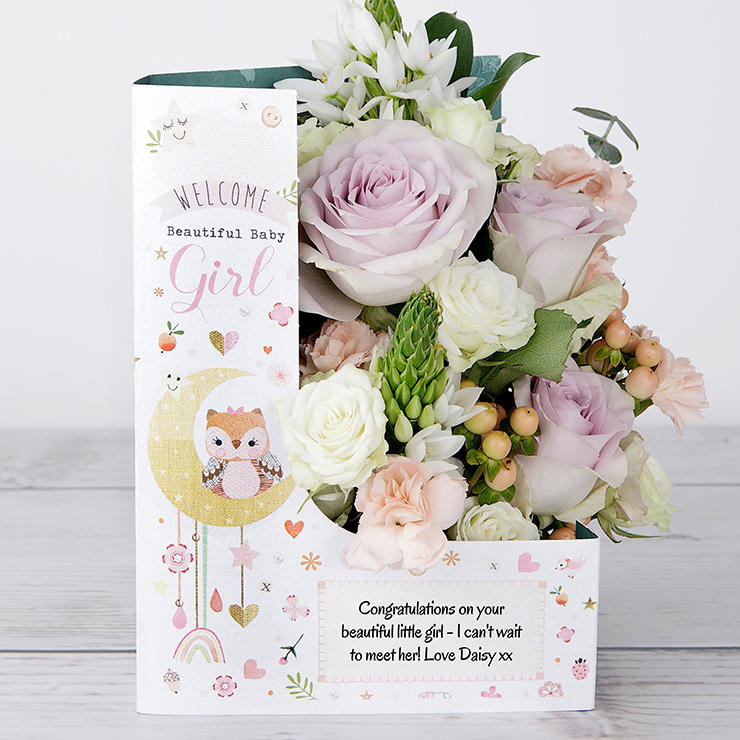 Pink roses - happiness, caring, love
Pink roses can show love, but are subtler in meaning than red roses. As a result, they make the perfect gift for a close family member or a friend. We love the adorable spray roses within our Purr-fect Birthday Flowercard, which are set against a generous bouquet of soft pastel blooms, including lemon hypericum berries, lemon statice and the lightest of lilac hypericum.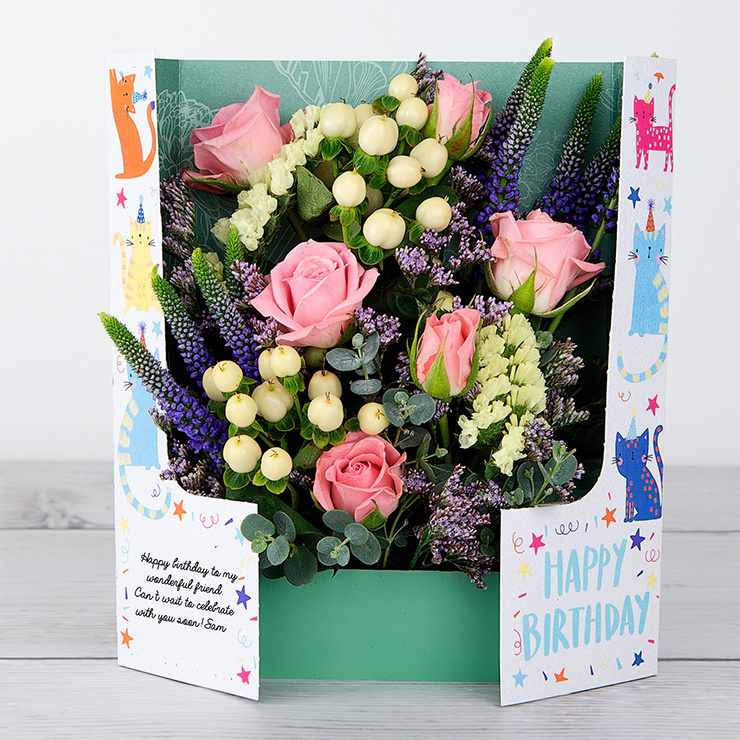 Feeling flushed? Check out our cute pink rose pinks:
If you liked this, then make sure to follow Flowercard on Facebook and Instagram.